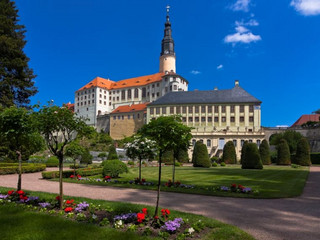 Weesenstein Castle resting on a rock above the Mueglitztal valley rises high above the valley road leading from the Eastern Ore Mountains towards Heidenau. It has a widely regarded exhibition to present on the history of the property, which goes back to the Middle Ages. But it also has cultural and culinary offers to make.
Here you can find all information for your visit:
Contact
Weesenstein Castle
Museumsladen
Am Schloßberg 1 | 01809 Müglitztal
Property of State Palaces, Castles and Gardens of Saxony, non profit
+49 (0) 35027 626-0
weesenstein@schloesserland-sachsen.de
Reduced admission for refugees
For a moment of peace and distraction, refugees receive reduced admission to Saxony's most beautiful castles, palaces and parks.
Benefits with the schloesserlandCARD
Permanent exhibition
Free admission to the permanent exhibition

Special exhibition
Free admission to the special exhibition

Arrival & map
Next City: Dresden (22 km)
Arrival information:
By car
via A17, exit Pirna and further along the road towards Glashuette (follow the signposts)
or
via B172 towards Pirna/ Saechsische Schweiz (Saxon Switzerland), following the signposts towards Altenberg in Heidenau, the road will lead you right to the castle (about 20 km/ 12.5 mi from Dresden)
Parking facilties
Parking facilities for cars and tour buses available.
By public transport
city rail S1 from Meissen/Dresden or from Schoena/Pirna to Heidenau and then by: rail replacement transport »Mueglitz River Valley Rail SB72 (Heidenau - Altenberg)« to Weesenstein
bus (Mon - Fri): bus line 202 (Heidenau - Glashuette) to Weesenstein (stop Gemeindeamt Weesenstein)
for more information, please, go to www.vvo-online.de
Your Specialists for the Region
You would like to know about the highlights in the region, book accommodation or plan an active holiday in the Elbe River Sandstone Mountains? The Tourist Association Saechsische Schweiz e.V. will help you with necessary information and tips.
Tourismusverband Sächsische Schweiz e.V.

+49(0)3501 470147