French and English - The Castle Grounds of Weesenstein Castle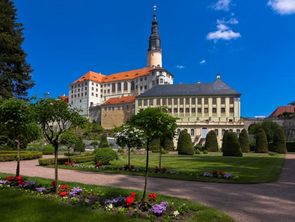 Being monumentally enthroned on a rock, the castle towers over a park area. Located amidst a wooded hillside, pristine nature and the extensive, open, and clear-cut French style garden area make up a lovely contrast.
The garden's basic structures, supposedly being baroque and preserved until today, are assumed to be a result of the creative will of the Uckermann baron family (Freiherrenfamilie von Uckermann) that had acquired the estate in 1772. Other castle owners of the following centuries have left their traces as well. The Mueglitz riverbed was skilfully diverted with the result that it cuts across the gardens and splits it into two sections. A natural water play emerged, whose appeal even escalates by a weir causing an artificial small waterfall. Each garden section for its own represents a formal unit. A strictly symmetrical and delicate path network leads strollers into entirely different worlds of experience.
The herbaceous borders in the garden section near the castle were designed in a specifically multifarious way to attract the visitors' attention. In the larger garden section, shady lime avenues and pathways lined by hornbeam hedges lead to architectural treasures.
Enthusiasts will additionally search for the »lost« English Park. Around 1780, the Weesenstein Lords and Ladies were amongst the pioneers of establishing such a garden in Saxony. Today, nature and post-war influences have covered most leads of the former English sections. But on a romantic path, visitors still can get along the wooded eastern slope of the Mueglitz valley (Müglitztal) to the foundation walls of the once impressive hunting pavilion from the Baroque period. On this pathway, attentive walkers will notice details of a landscape garden, small sandstone bridges, simple benches, and places overlooking the castle and surroundings.
Contact
Weesenstein Castle
Museumsladen
Am Schloßberg 1 | 01809 Müglitztal
Property of State Palaces, Castles and Gardens of Saxony, non profit
+49 (0) 35027 626-0
weesenstein@schloesserland-sachsen.de