Castle Café Weesenstein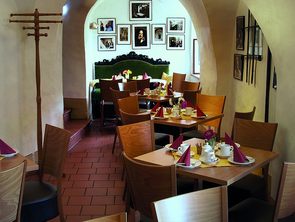 As Rolf Hoppe 1991 Weesenstein restarted reading »stories by the fireplace«, the history of the castle cafes began.The Fireplace today is decorated tby a small gallery with photographs of Dresdner mimes. With homemade cakes and pies, ice cream and savory dishes, as well as »grilling on the hot stone« we care for your physical well-being. We make you an individual menu for your event. Up to 20 people can be accommodated at the Palace Café, up to 80 in the banquet halls of the castle.
Opening hours Schlosscafé
November – March
Wed – Son 11:00 am – 6:00 pm
Mon, Tue closed
Except for January: Sat, Son 11:00 am – 6:00 pm
April – October
Fri – Tue: 11:00 am – 6:00 pm
Wed, Thu: colsed
Castle Brewery Weesenstein & Royal Palace Kitchen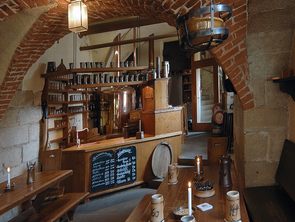 In 1752 the time critic Julius Bernhard von Rohr composed a "General housekeeping book," in which he also reported beer. One of the four varieties named, "the all weeks to Dresden up out", is the "good wholesome Weysensteiner". Experience beer cozy hours in the castle brewery or beer garden in the upper chamber with its historic fountains and the picturesque view over the Müglitztal. Dine rustic, let oneself be entertained by master brewer and report facts about the beer and its importance in the Weesenstein.
Opening hours Brewery & Kitchen
November – April
Tue – Fri: 6:00 pm – 0:00 pm
Sat, Son: 11:00 am – 0:00 pm
Mo: Ruhetag
May – October
Tue – Fri: 12:00 am – 0:00 pm
Sat, Son: 11:00 am – 0:00 pm
Wed: closed
Contact
You have a question or like to reserve a table? Just contact:
Schlosscafé Weesenstein
Kerstin Strietzel
Am Schlossberg 1
01809 Müglitztal
www.schlosscafe-weesenstein.de